Reaching your personal edge
I really enjoy Nathan's classes! I really like how he encourages us to push to what we feel is our personal edge yet not to worry if we need to back off or rest. I actually get through his classes without making a sound. Not bad for a middle-aged women with hip and shoulder issues! 🙂 I wish I could take Nathan's class every day! Thank you for being such a great teacher!
Jenny Weller
Reducing stress in the workplace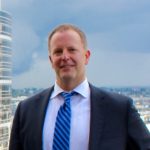 I first met Nathan through classes he taught at several Portland yoga studios. His classes were uniquely centering compared to other teachers I'd experienced, and he clearly stood out as exceptional amongst other instructions. My business partner and I run a successful and growing family law litigation practice in Portland. It can be intense and stressful work for our staff, and even more so for clients.  We decided to try yoga as a firm benefit to help buffer our staff from the ill effects of stress, and invited Nathan to teach an in office class as an experiment. The experiment is over and the results are in! I cannot say enough positive things about Nathan's work with our people at Stephens & Margolin LLP.  Hiring Nathan Mills to teach yoga at our law firm is one of the best business decisions I ever made.  Nathan's in-office classes are popular and well attended. I've personally seen staff's increased resiliency to stress after a yoga class, as well as patience and empathy with clients. His corporate yoga classes  have improved office camaraderie, and our sense of being a team. Nathan knows our people, and his classes are uniquely tailored to us, down to the skill level and commentary. Recently we added massage from Nathan after yoga, and the staff feedback has been overwhelmingly positive.  I have happier employees, happier clients, and more revenue because of Nathan's work with our firm.
Sean Stephens
Stephens Margolin LLP
Healthy changes on all levels
Nathan is a shining example of what a disciplined practice can accomplish. He not only has extensive knowledge and experience as a teacher of Bushido Yoga but combines this with a deep understanding of the physical system from the nutritional standpoint, to bring about healthy changes on all levels for the client. The depth of his understanding of ancient principals and ability to share such wisdom in an accessible way, without esoteric fluff, is rare. Anyone who study's with Nathan will be touched. He reaches you through profound depth of clarity and the ability to get to the root of an issue or support you in exactly the way you need. Enjoy your journey with this gifted teacher!
Beth Byron
Becoming egoless in the dark
Dark Yoga removes the one element that so unconsciously infuses our lives: light. This subtle extraction allows the brain to completely tune out all sense of competition and physical awareness. It heightens the mind's ability to just simply move within the body. Although I always try to practice these same ideals in a normal yoga class, the darkness forced me to face the fact that I truly do not achieve the level of egolessness that I often think I do. External competition completely diminishes in the dark, but so does internal competition. Since I could not see my limbs, I had to trust my mind and body to move as they should, as they needed, and know that however that was, it was correct. It was a beautiful exploration of the ego and the way that impacts my practice. The guided meditation at the end of the workshop provided the perfect mechanism to let the mind go deeper into the realizations that had accumulated throughout my movement. Nathan's steady voice and guidance illuminated the path artfully, allowing me to drift away into my thoughts but in the same moment remain aware and witness their identities. Dark Yoga is a great way for beginners and advanced yogis alike to try a new approach to their practice. It is a space full of openness and exploration. It is one workshop that I cannot wait to do again and again!
Sara Schneider
Penetrating past the skin…
My skin has long been a source of self-judgment. The acne on my face has held me back socially – it has kept me from holding eye contact, or from just feeling comfortable….in my skin. It's even hard for me to seek help because I'm embarrassed. Though I've been to a few aestheticians and dermatologists over the years, I have never experienced anything like the care I receive from Heather. It feels like balm for my soul. Her calm, her warm acceptance, and her willingness to share from her own experience, let me know that she's with me and not looking down on me from above. She works smoothly and seamlessly. With eyes closed and face covered, I've sometimes felt with others the shock of cold hands or a surprise touch near my eye that gives me a jolt. With Heather there's never a surprise, never a stray drip, and it seems no detail is missed. Her work penetrates far past the skin, deep into my nervous system. It is my most relaxing hour of the month. And though I thought it would never happen, I'm delighted to say my skin has never been clearer.
Jeannie C.
Nathan is special
Nathan is special: genuine, unassuming, and I've witnessed the smile in other teachers' eyes at the mention of his name. Nathan naturally expresses the artful qualities of a master teacher and healer. He's the real deal.
Douglas Johns
LCSW psychotherapist
Timely and genuine encouragement
I came to this practice with no yoga or martial arts in my background. The journey has been one of patience, perseverance and humility as I learn to accept the immense value of small steps and small beginnings. One of the things I've learned to deeply appreciate about working with Nathan is his keen awareness for timely encouragement while at the same time challenging me to new heights. His refusal to  settle for empty flattery that misses the goal and doesn't lay any lasting roots is refreshing. I count myself blessed to be learning under someone of his character and integrity and look forward to many more hours of mat time.
Mark Conta
A beautiful experience
Heather has magic hands and a warm heart. Her knowledge of skin care is extensive, and her facials are replenishing and delightful experiences. I have complete trust in her ability to give my skin what it needs, and she is always learning, adding to her knowledge and sharing with others as a colleague and as a teacher. Heather is a compassionate being who serves her clients with grace and intelligence and, as a result, has a very loyal clientele. I feel very fortunate to have found her a few years ago!
Erica Goldman
Releasing old patterns
Nathan has been working with me one-on-one with massage and yoga therapy for close to a year. He guides me through certain yoga poses to target areas of my body where I feel pain, tightness, stress, or old trauma and gives my body feedback with his massage techniques. After our yoga session, we move to the massage table where he delves deeper into my tissues to release old patterns. This process has been transformative. My body is able to explore a broader spectrum of movement, and I have been able to release emotions that have held back both my physical yoga practice and more importantly my interactions with the present. I cannot recommend Nathan enough for people who are looking to explore deeper realms of their body and their mind. Thank you so much Nathan!!
Mihir Desu
Nathan's practice is a game changer
As a single Mom with a big career, I am constantly running. Often working on adrenaline to get it all done. As a former athlete, it is central to my being to have a physical outlet…to have
goals and to allow my body to move. As a chronic pain patient, I need to be reminded that pain doesn't have to limit my joy in movement. Nathan's practice and teachings have made a difference in all three.
His breath work slows everything in my body. It releases the adrenaline, allows me to regroup, and be a better Mom, employee and person. His pacing allows my body to ease into the poses and to be challenged…but only if my breath extends that invitation. His personal experience with pain and the fact that you still have an active practice is normalizing and very inspiring.
It's been a game changer, and for that I am grateful. Thank you so much!
Shana Klemchuck
Experiencing profound darkness
I had the unique opportunity to practice in the pitch darkness. My dear friend and teacher, Nathan Mills, held a workshop called Dark Yoga. While so many other workshops in the yoga community use words such as "illuminate, brightness, radiance," Nathan held space for us to dive deeply into the void, the darkness, and discover for ourselves, where the light resides when all other light goes out. In the first few moments after the last candle was extinguished, I experienced what felt like a pause in time where I thought "Ah, wow, amazing, he really meant dark." I even found myself smiling at the situation I had chosen.
We don't experience this profound darkness very often in life. Artificial lighting continually bombards us, including computer screens and televisions. In this room where we all practiced and could hear each other breathing, I found comfort in the darkness. I contemplated the yogis in caves at the base of the Himalayas. I longed for a time and place where there was less stimulation from the world around us, and more availability to the mysteries held inside the teachings of yoga.
However, this is not what my life looks like, and thankfully, the mystery is still very alive, even with the ipods and ipads (notice that it is "i" and not "I") that constantly beg for our attention. I had a friend and fellow teacher recently ask me "How are you so disciplined?" which made me laugh since I live with external and internal distractions on a daily basis. The answer was simple… "Practice anyway." Turn the computer off, the phone off, dim the lights, light some candles, plan some time in solitude and get on with it. However, remember that your entire life is yoga, so don't stop once you rise up from savasana.
Reflecting back to my time in the dark, all I can say is that the experience as a whole left me speechless, literally. Both the slow intentional asana and the radical guided meditation were equally profound. After class, some students gathered to share in conversation, while I quietly left the room, the building and walked out into the brisk Portland night.
Diana Hulet
Unconditional support and guidance
I first wanted to work with Nathan in regard to my nutrition in order to balance my diet and motivate me to eat healthier, explore new food options, and experiment to see how I felt eating certain types of food and why.  What I got was a very comprehensive look into the world of nutrition on all levels – physically, mentally, and emotionally/spiritually. It was a willing exploration into the health of my life and lifestyle – from how I use my energy, what practices I can utilize to find peace of mind, uncover what was unsettled in my life and gain wisdom in the journey.
One of the invaluable tools I gained was the ability to understand and approach anxiety when it made an appearance in my life.  To this day, I still think of Nathan and use his teachings in those moments. I also learned a lot in how fantastic I can feel from certain foods, or the opposite, in feeling quite drained or depleted, by the food journals and tempered experiments that Nathan offers.
At the foundation of working with Nathan is the presence that he brings to each meeting.  He is gentle, caring, and supportive while encouraging you to explore questions that are sometimes hard or uncomfortable, and yet it is still an invitation. No rock will be turned over without consent, and I felt like anything that I wanted to bring up in our sessions was completely acceptable and met with enthusiasm to see how we could traverse it.  Nathan brings unconditional support and the teachings of yoga into practice through his natural ability to relate and be fascinated by the human condition. He researched and contemplated what would come up in our sessions and would return the next week with thoughts and/or suggestions.  In addition, he would write up and email detailed, professional, and humorous summaries of our meetings for me to add to my notebook, to reference, and use as a reminder that he is always there to offer support.
Kat O'Toole
Make marked improvements
Nathan's impressive background in several modalities, intuition around the human body, and inquisitive mind—means that every session holistically addresses current issues, while offering proactive steps toward my overall health. Through consistently working with Nathan, I've been able to make marked improvement on chronic issues. He is relaxed, professional, and it has been a joy to work with him.
David D.
A commitment worth the effort
Doing self-work always requires a commitment to make it worth the effort. I found that working with Nathan made it easy to stay dedicated to the changes I was trying to make. His work and support helped me to become more aware of the impact my nutrition choices have on every other element of my life. Over the course of six months, I gained valuable tools to help me maintain the balanced lifestyle I desire for myself. Even now, when life gets off-kilter, I just start from day one. Nathan is a steady practitioner and wants to see his clients succeed in their goals. I am grateful for his guidance and would recommend him to anyone wanting to challenge their norm.
Sara Schneider
Wonderful instructor with great knowledge and personality
Nathan has been instructing yoga at our firm for several years and has become a valued member and friend. Nathan not only has a wealth of knowledge in yoga, alternative medicine, and massage therapy, but he has a wonderful personality that makes our yoga practices so enjoyable. Nathan always tailors our yoga sessions to accommodate the moods and varying comfort levels of the day's participants. If some of us want a more challenging session, while others want a more mellow session, Nathan provides great balance and offers modifications that allows everyone to achieve their personal goals for the session. I always leave our our sessions feeling accomplished and rejuvenated.
Since Nathan has become a licensed massage therapist, our firm has reserved an hour each week after our Wednesday yoga sessions for massage. I have had many massages in my life, and I can honestly say that Nathan's head and neck massages are among the best I have had. I am prone to neck and back pain due to hours of poor posture in front of the computer, and Nathan's pressure point massage techniques are very therapeutic, helping to relieve tension in those areas.
Overall, Nathan doesn't apply a blanket method to yoga and massage to each session, but rather listens to each of us and attends to our individual needs based upon his extensive experience and training.
Xian Woram
Nathan is the best!
Nathan is absolutely the most connected, aware, and intuitive yoga instructor I've ever experienced. It's an honor to be his student.
Brie Anne Schwartz
RYT-500
Aware of body from within
It was so dark that I retreated within myself not by choice but by the nature of the environment around me. I had to become aware of my body from within since I had no awareness of my body externally. And that was amazing.
Mihir Desu
Tap directly into the "dark" areas
Dark Yoga is indispensable for those who want take the journey within. I found this workshop to be a portal to self without any shortcuts. Unsettling, challenging and mysterious, this experience allowed me to tap directly into the 'dark' or suppressed areas that I've allowed due to social agreements, false sense of self, or simply choosing dead ends along my path. There is an invitation of going straight to the source as well as a profound sense of coming home.
Through the use of Nathan's expertly guided meditation, the workshop facilitates an awakening of the dormant yet potent aspect of true self. Dark Yoga is literally dark. We do carefully chosen asanas in pitch black, and conversely, Dark Yoga is truly illuminating – we have the opportunity to face oursleves. The experience can have a lasting effect for months in terms of un-peeling the layers. I would recommend this workshop to be taken as many times as possible!
Jennifer Niemeck
Workshop inspired words…
mine are eyes of darkness
around and surrounding, I feel the earth's breath
this silent night's air that offers nothing but that, is what I feed on
to walk, to move, to stare…into more of what I was unaware of…
a black hole has the utmost in depth…and such unknowing distance
its presence, is most fearsome and forces this blackness to expose what I've sold through these eyes…
the unforgiving and venomous mind….messenger of lies
to step forward is to trust the one I'd rather not….myself
to turn and twist with each flex of my lungs taunts resistance
I place my foot and fall
with no vision, no bottom can grab me….why do I fail to see this?
I float down and want to accept such freedom…sighting its value
the conditions inside counter with opinions
sickened and ready to pretend as parachute
letting go of limbs, amidst barren and spacious settings, letting the feeling of falling occur
bleeding my false light
in mid-air
absorbing this call….painted without numbers, without light, without sight….
I've come to know, this is how one grows…..
buried in our own earth is who we need to unearth….if we open our hearts and breath, with no distraction, no sun, nothing to set on…
the surrounding beauty around us….the dark which brings us such light
forcing of us back inside…
Pete Faher
Heather and Nathan: A complete team
My husband and I have been receiving regular massages from Heather for several years now, and I can't say enough good things about her. She is experienced, sensitive, responsive, and a pleasure to interact with in all aspects. I've had massages in many different places over the years and none compare! She has the ability to read what your body needs, listen to what you want, and the skill to deliver just that. Massage with her is something we look forward to each month. I've had a number of injuries and she is wonderful and respectful in how to give a massage that aids in healing. I have also had a series of one-on-one yoga sessions with Nathan following back surgery, and he helped me craft a routine that was therapeutic and meditative. He has a fantastic ability to really listen and meet you exactly where you are, which for me was a beginner level and for the first time I began to understand why breath was so important and how to begin to practice with it. I also loved how he explains the philosophy, intent, and mechanics behind what he is teaching, melding mind and body. They will be a truly inspiring team to work with!
Marcia Wood
Endlessly curious and open-minded
Heather possesses a rare and wonderful constellation of skills that I cannot recommend highly enough. Her knowledge of skincare, wellness, and bodywork is incisive and extensive. At the same time, Heather is also endlessly curious and open-minded. Her breadth of knowledge joins with a warm, radiant, and positive presence that makes learning from her an absolute joy. Her support, focus, and enthusiasm creates a dynamic space for clients and students to unfold and cultivate skills in their own way. As an esthetician, I learned more after two trainings with Heather than I did in my entire formal skincare education. She is a true inspiration!
Jessi Slavich
Strength in body, mind and spirit
The six months that I spent training and doing life coaching with Nathan was a truly inspiring and life changing experience. His work helped me believe in myself again and realize that absolutely anything is possible. The strength I created in body, mind and spirit will travel with me for the rest of my life. No matter your circumstances, working with Nathan will improve your life. I will always be grateful.
Sara Armstrong
Nutritional Coaching & Goal Setting with Heather
As a 60-something woman with arthritis and some chronic pain, I was referred to Heather Wade-Mills (Nathan's amazing wife) by a mutual acquaintance because I wanted to hit the "reset button" for better nutrition, exercise and also for more discipline in achieving my goals, which included tapping in to my more creative and productive self. I spent almost a year, meeting up with Heather, talking, "hiking", reading/discussing her support materials, doing exercises, journaling, even cooking together and obtaining a good chef's knife and containers for all the chopped veggies and healthy food I was preparing. This is a longterm commitment, and I am now on a very good path to a more disciplined and healthy lifestyle — which includes finding time for my art — thanks to Heather.
Jeanne Schapp
Taking it off the mat…
Nathan's teaching has taught me an approach to take into every class that is so much more helpful than I could have imagined! In addition, of course, into everything beyond the mat as well. His technique is different than anything else that I have experienced and is so uniquely and efficiently distilled into a moment-to-moment essential bit of being. Sending lots and lots of gratitude! Thank you Nathan for providing a big steep beautiful bend on my yoga path.
Jamie Bluhm
Healing Anxiety
I practiced yoga with Nathan for a year and a half and absolutely loved it. I actually have an anxiety disorder, so it was very healing having him come into the office during the weekdays. The things I learned with him are things I will carry with me for life. If you are looking for an instructor, I highly recommend Nathan! He is very calm, patient, and enjoys working with you to tailor things to your needs. Thank you, Nathan!
Shauna O'Connor
Sather, Byerly, & Holloway
Bringing wellness to our team
Nathan is a talented yoga instructor and massage therapist. Our team looks forward to seeing him every week, and his ability to use all of his skills — nutritional coaching, massage, yoga, martial arts, and more — to help individuals with whatever their wellness needs are is fantastic and much appreciated. Oh, and he's just a lot of fun too. Highest recommendation!
Cameron Madill
PixelSpoke
Feeling the flow
I really enjoyed Nathan's classes. His message about the flow, or smooth 'journey' from one movement to the next really sunk in.  Both in a physical movement sense, and it was beautiful to blend it as a metaphor for life. I've been to many yoga classes and never had it explained, and demonstrated, quite like Nathan did. Perhaps it is the merging of his martial arts energy with the yoga makes it work so well. Keep up the great work.
Ken Hughes
Living in the moment/movement
The concept of 'living in the moment' is a compelling theme, especially in a fast-paced, modernized yet fragmented reality. The fact that the words 'moment' and 'movement' come from the same root dawned on me as I moved through this workshop. Making this important connection came easily while participating in the Art of Transition. Through Nathan's use of fine-tuning awareness and the practice of patience throughout yogic asanas, I was able to reconnect instantly with the joy of the journey. The exploration of no fixed end point also helped me to tap into contained energy (or chi) and experience a sense of enhanced grace and strength. Nathan guides in such an effective way that the practice seems to transcend the physical mat almost effortlessly!
The accompanying exercises and lecture also provide tools to peel the layers of false ideas of self while inviting authenticity to emerge. Health, as it relates to nutrition, is presented in a digestible and non-dogmatic way and viewed as the restoration of balance coming principally from within and extending beyond — essentially all that we absorb in our relationships, work, the environment…   Nathan possesses a rare combination of personal wisdom, superior knowledge and masterful techniques that integrates compassion, playfulness and purpose. This workshop walks the talk!
Jennifer Niemeck
Creating a lifestyle toolbox
I found myself drawn to take Nathan's transformational Nutritional Coaching process after taking Yoga classes with him on a consistent basis. As a Yoga teacher Nathan emphasizes transition and flow, and transition is exactly what I needed and was struggling with in my life. I was making the switch from professional Poker Player to Yoga Teacher, and it was quite a leap indeed… so much so that I felt like I needed some help and guidance to facilitate this life shift for me. Nathan's program was just the sort of magic that I needed in my life. Through the offering of various tools and suggestions I was able to systematically examine my life in an objective way and to make conscious decisions on what best served me and what to let go of.  We worked on topics ranging from eating and drinking more wholesome products to analyzing my daily habits to relationships with the people in my life.
Throughout I was given excellent constructive advice and feedback on all the issues that I brought to Nathan's attention. The primary reason that I would recommend this program is that Nathan doesn't just give you advice, suggestions etc. He offers tangible tools that one can use to effect change in one's life. Bit by bit I created a toolbox that I will be able to depend upon for the rest of my life when I feel that some change is needed. I am most satisfied with Nathan's Nutritional Coaching program and with where my life has been ever since.
Michael Shvartsman
Submit your own testimonial about working with Nathan Mills and/or Heather Wade: