Onsite Massage, Movement, Meditation, and Nutrition
Over a decade Nathan Mills has worked with several firms and corporations offering in-office massage, teaching yoga & martial arts fitness sessions, meditation, as well as offering nutritional counseling services to management and employees.
Nathan has become the go-to person for companies who want massage, movement, meditation, and nutritional counseling offered in their place of work. He works with several firms currently at their place of business offering these services in conference rooms, offices, outdoor rooftops, and even cafeterias.
Benefits include but are not limited to:
Healthier/happier employees
Increased focus and productivity
A less stressful work environment
Better team camaraderie
Preventing/managing body pain due to working long hours in front of a computer
Stronger immune system leads to less sick days
Nathan brings a wealth of knowledge, professionalism, and a sense of humor that creates a very warm and inviting environment for employees of varied fitness levels and body types to feel comfortable participating.
Schedule a Meeting with Nathan today to discuss offering any of these services in your office/organization/firm.
Please be sure to read our Appointment Policies before scheduling your session.
---
See what companies are saying about Bushido Wellness:
Healing Anxiety
I practiced yoga with Nathan for a year and a half and absolutely loved it. I actually have an anxiety disorder, so it was very healing having him come into the office during the weekdays. The things I learned with him are things I will carry with me for life. If you are looking for an instructor, I highly recommend Nathan! He is very calm, patient, and enjoys working with you to tailor things to your needs. Thank you, Nathan!
Shauna O'Connor
Sather, Byerly, & Holloway
Bringing wellness to our team
Nathan is a talented yoga instructor and massage therapist. Our team looks forward to seeing him every week, and his ability to use all of his skills — nutritional coaching, massage, yoga, martial arts, and more — to help individuals with whatever their wellness needs are is fantastic and much appreciated. Oh, and he's just a lot of fun too. Highest recommendation!
Cameron Madill
PixelSpoke
Wonderful instructor with great knowledge and personality
Nathan has been instructing yoga at our firm for several years and has become a valued member and friend. Nathan not only has a wealth of knowledge in yoga, alternative medicine, and massage therapy, but he has a wonderful personality that makes our yoga practices so enjoyable. Nathan always tailors our yoga sessions to accommodate the moods and varying comfort levels of the day's participants. If some of us want a more challenging session, while others want a more mellow session, Nathan provides great balance and offers modifications that allows everyone to achieve their personal goals for the session. I always leave our our sessions feeling accomplished and rejuvenated.
Since Nathan has become a licensed massage therapist, our firm has reserved an hour each week after our Wednesday yoga sessions for massage. I have had many massages in my life, and I can honestly say that Nathan's head and neck massages are among the best I have had. I am prone to neck and back pain due to hours of poor posture in front of the computer, and Nathan's pressure point massage techniques are very therapeutic, helping to relieve tension in those areas.
Overall, Nathan doesn't apply a blanket method to yoga and massage to each session, but rather listens to each of us and attends to our individual needs based upon his extensive experience and training.
Xian Woram
Reducing stress in the workplace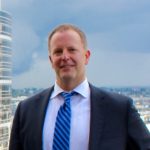 I first met Nathan through classes he taught at several Portland yoga studios. His classes were uniquely centering compared to other teachers I'd experienced, and he clearly stood out as exceptional amongst other instructions. My business partner and I run a successful and growing family law litigation practice in Portland. It can be intense and stressful work for our staff, and even more so for clients.  We decided to try yoga as a firm benefit to help buffer our staff from the ill effects of stress, and invited Nathan to teach an in office class as an experiment. The experiment is over and the results are in! I cannot say enough positive things about Nathan's work with our people at Stephens & Margolin LLP.  Hiring Nathan Mills to teach yoga at our law firm is one of the best business decisions I ever made.  Nathan's in-office classes are popular and well attended. I've personally seen staff's increased resiliency to stress after a yoga class, as well as patience and empathy with clients. His corporate yoga classes  have improved office camaraderie, and our sense of being a team. Nathan knows our people, and his classes are uniquely tailored to us, down to the skill level and commentary. Recently we added massage from Nathan after yoga, and the staff feedback has been overwhelmingly positive.  I have happier employees, happier clients, and more revenue because of Nathan's work with our firm.
Sean Stephens
Stephens Margolin LLP